Playing At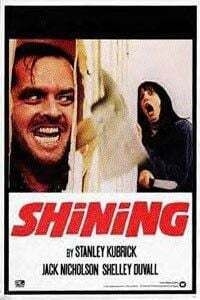 The Shining
(R)
Rated NR
This movie has not yet been rated by the MPAA.
Rated G
Nothing that would offend parents for viewing by children.
Rated PG
Parents urged to give "parental guidance." May contain some material parents might not like for their young children.
Rated PG-13
Parents are urged to be cautious. Some material may be inappropriate for pre-teenagers.
Rated R
Contains some adult material. Parents are urged to learn more about the film before taking their young children with them.
Rated NC-17
Clearly adult. Children are not admitted.
Release Date:
May 23rd, 1980
Run time:
2 hr. 24 min.
Director:
Stanley Kubrick
Genres:
Drama, Horror
Starring:
Jack Nicholson, Shelley Duvall, Danny Lloyd, Scatman Crothers
Frustrated writer Jack Torrance takes a job as the winter caretaker at the ominous, mountain-locked Overlook Hotel so that he can write in peace. When he arrives there with his wife and son, they learn that the previous caretaker had gone mad. Slowly Jack becomes possessed by the evil, demonic presence in the hotel.