Playing At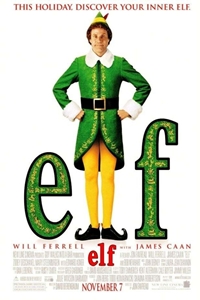 Elf
(PG)
Rated NR
This movie has not yet been rated by the MPAA.
Rated G
Nothing that would offend parents for viewing by children.
Rated PG
Parents urged to give "parental guidance." May contain some material parents might not like for their young children.
Rated PG-13
Parents are urged to be cautious. Some material may be inappropriate for pre-teenagers.
Rated R
Contains some adult material. Parents are urged to learn more about the film before taking their young children with them.
Rated NC-17
Clearly adult. Children are not admitted.
Release Date:
November 7th, 2003
Run time:
1 hr. 35 min.
Director:
Jon Favreau
Genres:
Comedy
Starring:
Will Ferrell, Zooey Deschanel, James Caan, Bob Newhart
As a baby, Buddy crawls into Santa's toy bag and is whisked off to the North Pole, where he is raised as an elf. A misfit who grows to be three times the size of his elf family, Buddy ultimately heads to his birthplace of New York City to seek out his roots. Unfortunately, they turn out to be a "Scrooge"-like father and a cynical ten-year-old stepbrother who doesn't believe in Santa. Worst of all, everyone seems to have forgotten the true meaning of Christmas. But using his simple elf ways, Buddy sets out to single-handedly win over his family and save Christmas in New York, hoping to at last find his true place in the world.