Playing At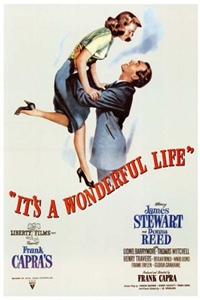 It's a Wonderful Life (1946)
(PG)
Rated NR
This movie has not yet been rated by the MPAA.
Rated G
Nothing that would offend parents for viewing by children.
Rated PG
Parents urged to give "parental guidance." May contain some material parents might not like for their young children.
Rated PG-13
Parents are urged to be cautious. Some material may be inappropriate for pre-teenagers.
Rated R
Contains some adult material. Parents are urged to learn more about the film before taking their young children with them.
Rated NC-17
Clearly adult. Children are not admitted.
Release Date:
December 25th, 1946
Run time:
2 hr. 15 min.
Director:
Frank Capra
Genres:
Drama, Comedy
Starring:
James Stewart, Donna Reed, Lionel Barrymore, Thomas Mitchell
George Bailey is a small-town man whose life seems so desperate he contemplates suicide. He had always wanted to leave Bedford Falls to see the world, but circumstances and his own good heart have led him to stay. He sacrificed his education for his brother's, kept the family-run savings and loan afloat, protected the town from the avarice of the greedy banker Mr. Potter, and married his childhood sweetheart. As he prepares to jump from a bridge, his guardian angel intercedes; showing him what life would have become for the residents of Bedford Falls if he had never lived.