Playing At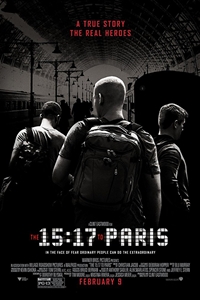 The 15:17 to Paris
(PG-13)
Rated NR
This movie has not yet been rated by the MPAA.
Rated G
Nothing that would offend parents for viewing by children.
Rated PG
Parents urged to give "parental guidance." May contain some material parents might not like for their young children.
Rated PG-13
Parents are urged to be cautious. Some material may be inappropriate for pre-teenagers.
Rated R
Contains some adult material. Parents are urged to learn more about the film before taking their young children with them.
Rated NC-17
Clearly adult. Children are not admitted.
Release Date:
February 9th, 2018
Run time:
1 hr. 34 min.
Director:
Clint Eastwood
Genres:
Drama
Starring:
Anthony Sadler, Alek Skarlatos, Spencer Stone, Jenna Fischer
In the early evening of August 21, 2015, the world watched in stunned silence as the media reported a thwarted terrorist attack on Thalys train #9364 bound for Paris, an attempt prevented by three courageous young Americans traveling through Europe. The film follows the course of the friends' lives, from the struggles of childhood through finding their footing in life, to the series of unlikely events leading up to the attack. Throughout the harrowing ordeal, their friendship never wavers, making it their greatest weapon and allowing them to save the lives of the more than 500 passengers on board.