Playing At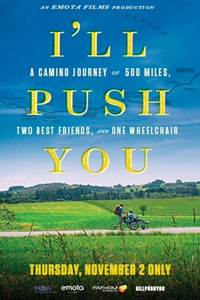 I'll Push You: A Real-Life Inspiration
()
Rated NR
This movie has not yet been rated by the MPAA.
Rated G
Nothing that would offend parents for viewing by children.
Rated PG
Parents urged to give "parental guidance." May contain some material parents might not like for their young children.
Rated PG-13
Parents are urged to be cautious. Some material may be inappropriate for pre-teenagers.
Rated R
Contains some adult material. Parents are urged to learn more about the film before taking their young children with them.
Rated NC-17
Clearly adult. Children are not admitted.
Release Date:
November 2nd, 2017
Run time:
1 hr. 50 min.
Director:
Chris Karcher, Terry Parish
Genres:
Program
Starring:
Justin Skeesuck, Patrick Gray
"I'll Push You: A Real-Life Inspiration" comes to cinemas for one night on November 2 to tell the story of two lifelong friends, Justin Skeesuck and Patrick Gray, embarking on an epic, 500-mile-long journey to hike Spain's famed El Camino de Santiago. Hiking this ancient pilgrimage along the vast terrain is challenging enough for the able-bodied, but these friends show the true test of humanity by physically and mentally pushing each other, as Justin, fighting a neuromuscular disease, would have to be pushed in a wheelchair. While Justin and Patrick face various challenges, they realize the greatest journey will be that of self-discovery, a sense of purpose and love of a community.