Playing At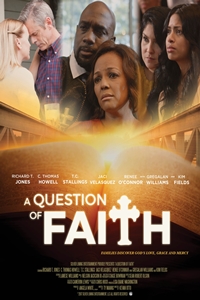 A Question of Faith
(PG)
Rated NR
This movie has not yet been rated by the MPAA.
Rated G
Nothing that would offend parents for viewing by children.
Rated PG
Parents urged to give "parental guidance." May contain some material parents might not like for their young children.
Rated PG-13
Parents are urged to be cautious. Some material may be inappropriate for pre-teenagers.
Rated R
Contains some adult material. Parents are urged to learn more about the film before taking their young children with them.
Rated NC-17
Clearly adult. Children are not admitted.
Release Date:
September 29th, 2017
Run time:
1 hr. 44 min.
Director:
Kevan Otto
Genres:
Drama
Starring:
Richard T. Jones, Kim Fields, C. Thomas Howell, Renée O'Connor
Pastor DAVID NEWMAN is a loving husband and father, set to take over his dad's church while neglecting the promises he's made to his 12-year-old son, ERIC. KATE HERNANDEZ is a spiritually driven single-parent and owner of a local restaurant. Her daughter MARIA is a free-spirited teenager aspiring to be the first in her family to go to college. JOHN DANIELSON is the owner of a failing construction company who sees his daughter MICHELLE's fledgling singing career as a way out of financial trouble. The lives of these strangers collide when two twists of fate strike back to back. The first: while texting and driving in her car, Maria accidentally hits Eric, which lands Maria in jail and leaves Eric's family with an unthinkable dilemma. The second: while auditioning for a major record label, Michelle collapses, leading to a discovery about her health which rocks the very foundation of her father's dream.