Playing At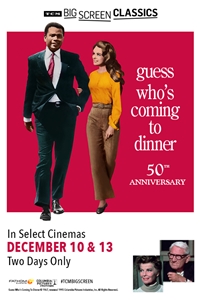 Guess Who's Coming to Dinner 50th Anniversary (1967) presented by TCM
(NR)
Rated NR
This movie has not yet been rated by the MPAA.
Rated G
Nothing that would offend parents for viewing by children.
Rated PG
Parents urged to give "parental guidance." May contain some material parents might not like for their young children.
Rated PG-13
Parents are urged to be cautious. Some material may be inappropriate for pre-teenagers.
Rated R
Contains some adult material. Parents are urged to learn more about the film before taking their young children with them.
Rated NC-17
Clearly adult. Children are not admitted.
Release Date:
December 10th, 2017
Run time:
2 hr. 0 min.
Director:
Stanley Kramer
Genres:
Program, Comedy
Starring:
Spencer Tracy, Sidney Poitier, Katharine Hepburn, Katharine Houghton
Fathom Events, Turner Classic Movies and Sony Pictures Entertainment are bringing Guess Who's Coming to Dinner to select cinemas nationwide for a special two-day event, which also includes an introduction from a TCM host. Joanna (Katharine Houghton) comes home with John (Sidney Poitier), her new fiancé. Although he's a successful doctor and a Nobel Prize candidate, her parents, Christina (Katharine Hepburn) and Matthew (Spencer Tracy), are taken aback when they discover John is black. And as John's parents also have their doubts over the impending marriage, the good doctor has his work cut out for him, as he won't marry Joanna unless there's unanimous parental consent.