Playing At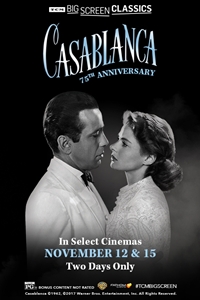 Casablanca 75th Anniversary (1942) presented by TCM
(NR)
Rated NR
This movie has not yet been rated by the MPAA.
Rated G
Nothing that would offend parents for viewing by children.
Rated PG
Parents urged to give "parental guidance." May contain some material parents might not like for their young children.
Rated PG-13
Parents are urged to be cautious. Some material may be inappropriate for pre-teenagers.
Rated R
Contains some adult material. Parents are urged to learn more about the film before taking their young children with them.
Rated NC-17
Clearly adult. Children are not admitted.
Release Date:
November 12th, 2017
Run time:
2 hr. 0 min.
Director:
Michael Curtiz
Genres:
Program, Drama
Starring:
Humphery Bogart, Ingrid Bergman, Paul Henried, Claude Rains
Fathom Events, Turner Classic Movies and Warner Bros. Entertainment are celebrating the 75th Anniversary of Casablanca and bringing the iconic movie to select cinemas nationwide for a special two-day event which also includes a special introduction by a TCM host. Rick Blaine (Bogart) owns a nightclub in Vichy-controlled Casablanca, frequented by refugees desperate to escape German domination. Rick manages to remain uninvolved in the war raging across Europe and Northern Africa, but all that changes when Ilsa Lund (Bergman) walks through the front door of Rick's club. He must now choose between a life with the woman he loves and becoming the hero that both she and the world need.