Playing At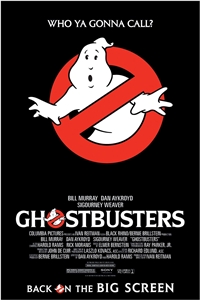 Ghostbusters (1984)
(PG)
Rated NR
This movie has not yet been rated by the MPAA.
Rated G
Nothing that would offend parents for viewing by children.
Rated PG
Parents urged to give "parental guidance." May contain some material parents might not like for their young children.
Rated PG-13
Parents are urged to be cautious. Some material may be inappropriate for pre-teenagers.
Rated R
Contains some adult material. Parents are urged to learn more about the film before taking their young children with them.
Rated NC-17
Clearly adult. Children are not admitted.
Release Date:
June 1st, 1984
Run time:
1 hr. 47 min.
Director:
Ivan Reitman
Genres:
Comedy, SciFi/Fantasy
Starring:
Bill Murray, Dan Aykroyd, Sigourney Weaver, Harold Ramis
A University parapsychologists Dr. Peter Venkman , Dr. Raymond Stanz, and Dr. Egon Spengler lose a research grant when their experiment methodology is proven to be bogus. The team decides to go into business for themselves and open 'Ghostbusters,' a ghost removal service. After struggling to get on their feet, they are summoned to investigate the strange happenings in Dana Barrett's Central Park West apartment. What they discover is that all Manhattan is being besieged by ghosts and other worldly demons through a portal in her building.