Playing At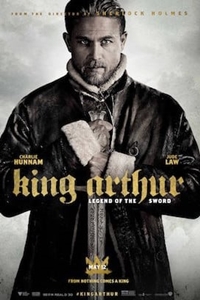 King Arthur: Legend of the Sword
(PG-13)
Rated NR
This movie has not yet been rated by the MPAA.
Rated G
Nothing that would offend parents for viewing by children.
Rated PG
Parents urged to give "parental guidance." May contain some material parents might not like for their young children.
Rated PG-13
Parents are urged to be cautious. Some material may be inappropriate for pre-teenagers.
Rated R
Contains some adult material. Parents are urged to learn more about the film before taking their young children with them.
Rated NC-17
Clearly adult. Children are not admitted.
Release Date:
May 12th, 2017
Run time:
2 hr. 6 min.
Director:
Guy Ritchie
Genres:
Action/Adventure, Drama
Starring:
Charlie Hunnam, Astrid Bergès-Frisbey, Djimon Hounsou, Aidan Gillen
When the child Arthur's father is murdered, Vortigern, Arthur's uncle, seizes the crown. Robbed of his birthright and with no idea who he truly is, Arthur comes up the hard way in the back alleys of the city. But once he pulls the sword from the stone, his life is turned upside down and he is forced to acknowledge his true legacy - whether he likes it or not.