Playing At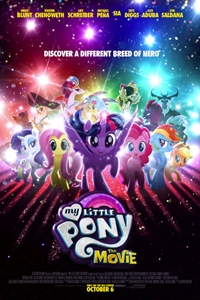 My Little Pony: The Movie
(PG)
Rated NR
This movie has not yet been rated by the MPAA.
Rated G
Nothing that would offend parents for viewing by children.
Rated PG
Parents urged to give "parental guidance." May contain some material parents might not like for their young children.
Rated PG-13
Parents are urged to be cautious. Some material may be inappropriate for pre-teenagers.
Rated R
Contains some adult material. Parents are urged to learn more about the film before taking their young children with them.
Rated NC-17
Clearly adult. Children are not admitted.
Release Date:
October 6th, 2017
Run time:
1 hr. 44 min.
Director:
Jayson Thiessen
Genres:
Animation, Action/Adventure
Starring:
Kristin Chenoweth, Tara Strong, Ashleigh Ball, Andrea Libman
A dark force threatens Ponyville, and the Mane 6 - Twilight Sparkle, Applejack, Rainbow Dash, Pinkie Pie, Fluttershy, and Rarity - embark on an unforgettable journey beyond Equestria where they meet new friends and exciting challenges on a quest to use the magic of friendship to save their home.