Playing At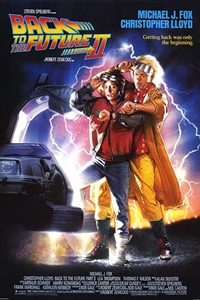 Back to the Future: Part II
(PG)
Rated NR
This movie has not yet been rated by the MPAA.
Rated G
Nothing that would offend parents for viewing by children.
Rated PG
Parents urged to give "parental guidance." May contain some material parents might not like for their young children.
Rated PG-13
Parents are urged to be cautious. Some material may be inappropriate for pre-teenagers.
Rated R
Contains some adult material. Parents are urged to learn more about the film before taking their young children with them.
Rated NC-17
Clearly adult. Children are not admitted.
Release Date:
March 22nd, 1989
Run time:
1 hr. 45 min.
Director:
Robert Zemeckis
Genres:
Comedy, SciFi/Fantasy
Starring:
Michael J. Fox, Christopher Lloyd, Elisabeth Shue, Lea Thompson
Picking up precisely where they left off, Marty and Doc launch themselves to the year 2015 to fine-tune the future and inadvertently disrupt the space-time continuum. Now, their only chance to fix the present is by going back to 1955 all over again before it is too late.