Playing At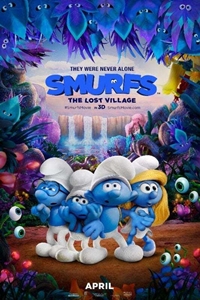 Smurfs: The Lost Village
(PG)
Rated NR
This movie has not yet been rated by the MPAA.
Rated G
Nothing that would offend parents for viewing by children.
Rated PG
Parents urged to give "parental guidance." May contain some material parents might not like for their young children.
Rated PG-13
Parents are urged to be cautious. Some material may be inappropriate for pre-teenagers.
Rated R
Contains some adult material. Parents are urged to learn more about the film before taking their young children with them.
Rated NC-17
Clearly adult. Children are not admitted.
Release Date:
April 7th, 2017
Run time:
1 hr. 29 min.
Director:
Kelly Asbury
Genres:
Animation
Starring:
Demi Lovato, Rainn Wilson, Mandy Patinkin, Jack McBrayer
It seems to Smurfette that everyone else in the Village has a purpose — Papa Smurf (leading), Baker Smurf (baking), even Grouchy Smurf (grouching) — except for her. So what's the only girl in the village to do? Go in search of hers, of course! When she accidentally crosses paths with a mysterious creature that takes off into the Enchanted Forest, she follows, and sets off into the uncharted and strictly forbidden woods. Joined by her brothers Brainy, Hefty and Clumsy — and with the evil wizard Gargamel shadowing their every step — Team Smurf undertakes a wild journey full of action, danger and discovery, setting them on a course that leads to the biggest mystery in Smurf history!